Aparicio's free kick lifts York9 to victory, officially eliminates FC Edmonton
---
Six games down, and York9 FC is still undefeated in PEI.
The Nine Stripes crept by FC Edmonton on Tuesday night with a 1-0 victory, jumping up to third in the standings with 10 points (from two wins and four draws) and officially eliminating the Eddies from top-four contention in the process.
York9, who entered the match with a slightly different look to the lineup with top scorer Joseph Di Chiara suspended, made use of their possession in the first half, generating 10 shots in the opening 45, but they remained snake bitten in open play.
What they needed, then, was a moment of magic, which came on the brink of halftime. Just like he did last weekend against HFX Wanderers FC, captain Manny Aparicio stepped up to a 20-yard free kick and smashed it over the wall into the net. He hit the top-right corner this time, rather than the left, but it was still déja vu for Y9.
FC Edmonton, encouraged by the return of star defender Amer Didic, gave a spirited effort, but they were never quite able to test Y9 'keeper Nathan Ingham.
Their energy did pick up in the second half, as coach Jeff Paulus made four of his substitutions fairly early. Hanson Boakai and Tomi Ameobi, coming into the game in relief of starters, helped the attack wake up significantly in the last half-hour.
The Nine Stripes held on to their slim lead, though — aided in part by Chris Mannella, who entered in the 68th minute to finally make his York9 debut. Their 14 clearances kept the Eddies away from the York9 goal.
These two sides will see out the first round of their Island Games campaigns (and for FC Edmonton, at least, the 2020 CPL season) this weekend. York9 takes on Cavalry FC on Saturday (3:00 p.m. ET/4:00 p.m. AT), and the Eddies will close things out against Pacific FC on Sunday (3:00 p.m. ET/4:00 p.m. ET).
---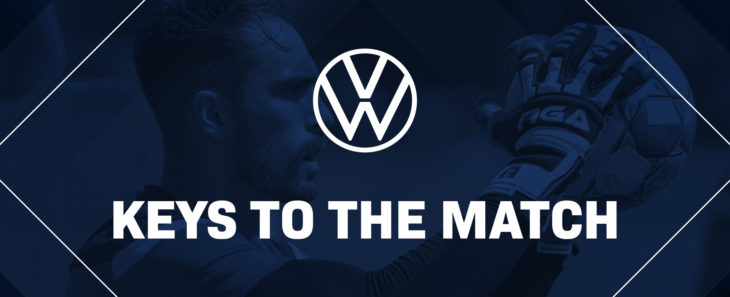 FC Edmonton: Play for pride – The Eddies definitely didn't throw in the towel. They won the majority of the duels and out-possessed York9 in the first half, only falling behind thanks to Manny Aparicio's free kick. FCE didn't generate an overwhelming number of chances, but they defended well and clearly worked hard to win balls.
York9 FC: Use set pieces – Well, Manny Aparicio certainly did. His stunning first-half goal from a direct free kick (for the second game in a row) gave the Nine Stripes the lead they craved. They worked hard to get into the attacking third and earn opportunities from the corner kick spot as well, taking five (four in the first half).
---
BOX SCORE
Goals
44′ – Manny Aparicio (York9 FC)
Discipline
43′ – Yellow: Erik Zetterberg (FC Edmonton)
74′ – Yellow: Chris Mannella (York9 FC)
---
TOP PERFORMER
Manny Aparicio (York9 FC)
What more can we say about the Y9 skipper's free kick ability? If the Nine Stripes are going to lean on set-pieces for much of their offence, it helps to have a player who can hit dead balls as confidently as Aparicio.